1.9 Log-in Settings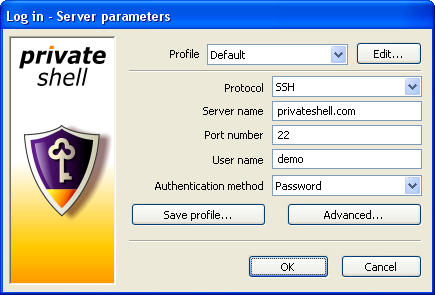 Profile
Select a profile to connect with. For the first time there is only the Default profile. To create a new profile, click the Save profile... button.
Protocol
Protocol that is used to connect to a server is selected here. Currently Private Shell supports SSH and Telnet protocols.
Server name
The server address. You can specify either the host name or the host IP address here.

Example:
myserver.com
192.168.0.1
Port number
Server's port number that accepts connection via selected protocol. Default port numbers are 22 for SSH connection and 23 for Telnet connection.
User name
Authentication method
Save profile...
Save current settings as a new profile
Advanced...